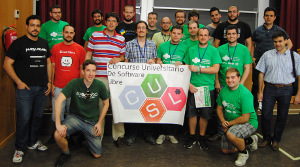 The "Concurso Universitario de Software Libre" (CUSL, Free Software University Contest), is an initiative similar to the Google Summer of Code, but specifically aimed to the Spanish university and high school students and organized by a group of Free Software University Offices.
As part of the effort to encourage the growth of the free software ecosystem, and introduce young talent to the development of free applications and technologies, DBAHire.com has just become a silver sponsor of the competition, providing resources for the prizes, traveling and accommodation to the students..
The final phase of the competition will take place on the 7-8 May in Zaragoza, and our MySQL consultant Jaime Crespo will deliver on that Friday a short speech in Spanish titled "Free Software ¿Is it profitable?".
DBAHire.com sponsors the "IX Concurso Universitario de Software Libre"